What is Eagle Creek Park Foundation?
Eagle Creek Park Foundation is the primary nonprofit funding partner of Eagle Creek Park, one of the largest city parks in the United States.
Our mission: To provide financial support and mobilize members to promote, preserve, protect, and enhance Eagle Creek Park.
Find out where donor & member dollars go
2024 Member Passes on Sale Now!
A membership to Eagle Creek Park Foundation means more than just a year a wonderful visits to the park.
Like Indy Parks, we sell passes that grant entry into Eagle Creek, but our member passes include membership in the foundation, events, newsletters, and more!
For 2024 only, Members receive 4 pairs of custom ECPF eclipse glasses for the Total Solar Eclipse visible from Indianapolis on April 8, 2024
A 2024 membership is the best way to support Eagle Creek Park!
Purchasing a Foundation pass provides gate admission and is the best way to give back to Eagle Creek Park.
Foundation Member Pass
Frequently asked questions
What's included with a member pass?
2024 Eagle Creek Park Foundation Member Pass, which provides unlimited park entry through Dec 31st (it's the same pass, just with our sticker!)
Membership in the Foundation, which includes member-exclusive newsletters and member-exclusive events.
4 pairs of eclipse glasses for the April 8, 2024 Total Solar Eclipse, visible from Indianapolis (Eagle Creek Park)
Discounts with our park partners: GoApe!, Eagle Creek Outfitters, and Eagle Creek Golf Club.
Why buy a Foundation Membership Pass rather than a gate pass from Indy Parks?
When you buy a gate pass from the Indy Parks for $50 (or 60 for non-Marion County residents), that money is divided among all 214 Indy Parks. When you buy a Foundation Membership Pass, the proceeds fund projects and programs in Eagle Creek Park. So if you love the park, a Membership with the Foundation is the best way to financially support the park.
Check out the video and image carousel below for more information!
What are some member events from the last year?
We are so thrilled with how well attended our events were this year!
We had hiking events, including one with our local partner Big Brothers Big Sisters of Central Indiana

We hosted a local Moth Expert, Jeanette Jaskula. She gave an excellent talk about all things moths and then set up an attraction station in the dark to attract our nighttime friends

Our own Adam Hibshman, a former physics and astronomy teacher led an astronomy talk and then guided Members and their families to the use of about a half dozen telescopes. We got to see the Moon and Jupiter over the reservoir!

Members got access to 2024 Membership Passes a whole day early this year!
Foundation Pass vs. Indy Parks Pass
Many wonder about the difference between Eagle Creek Park Foundation and Indy Parks Passes.
Both get you into the park, but what's the difference?
Ever wonder what's the difference between a Foundation Pass and Indy Parks Pass?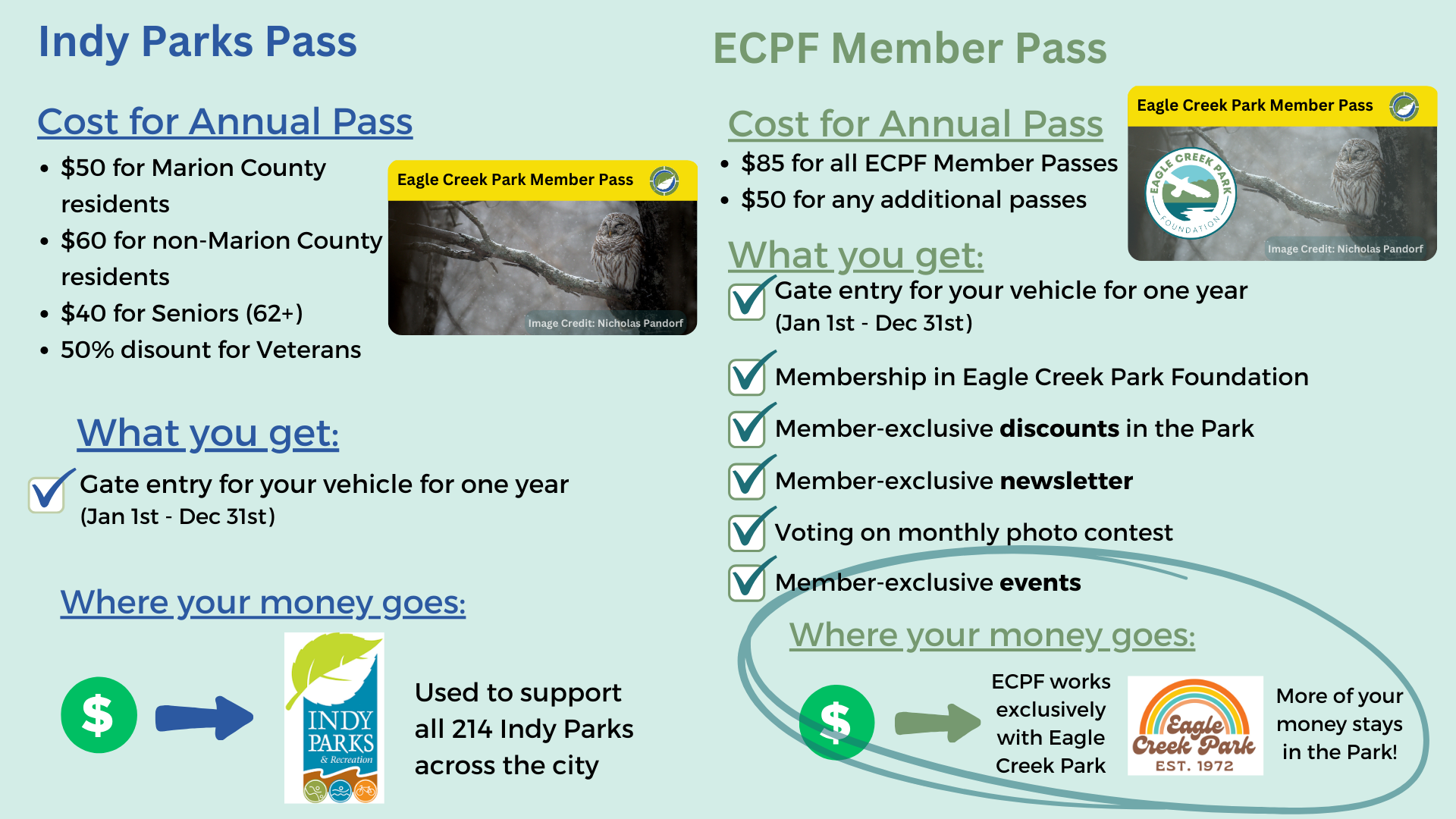 Already have an Indy Parks Pass?
Add the Foundation Sticker and support the Park
Adding the ECPF sticker makes you a full 2024 member of the Eagle Creek Park Foundation and for 2024 that means 4 pairs of custom ECPF eclipse glasses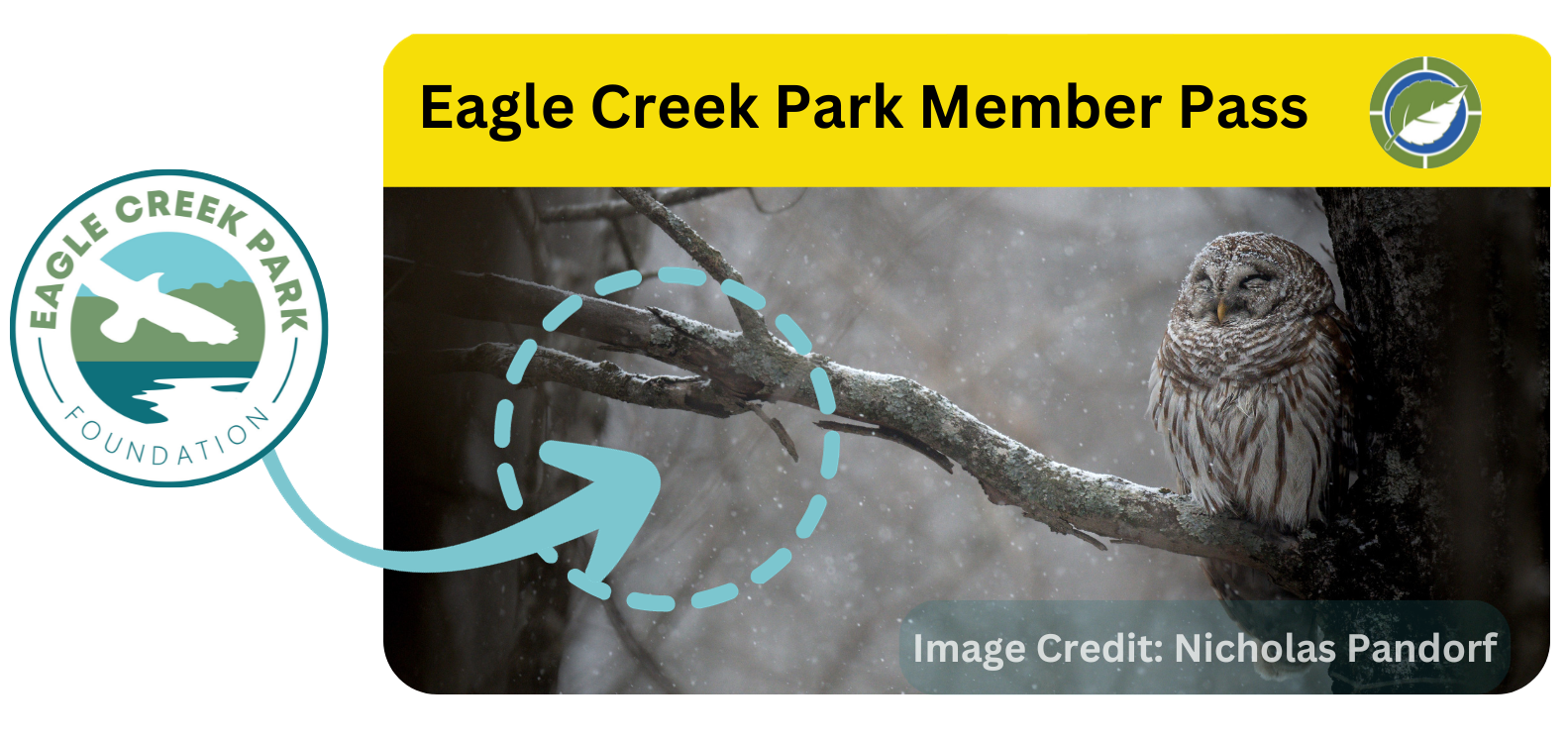 Membership with a sticker
Folks who already have a 2024 Indy Parks gate pass can simply add the Eagle Creek Park Foundation sticker to become a Member of the Foundation. It's the best way to support the park!
A new way to give back
Announcing our new Buy One Give One (BOGO) program for membership. We've worked to find organizations in our community who's mission can be advanced with access to Eagle Creek Park.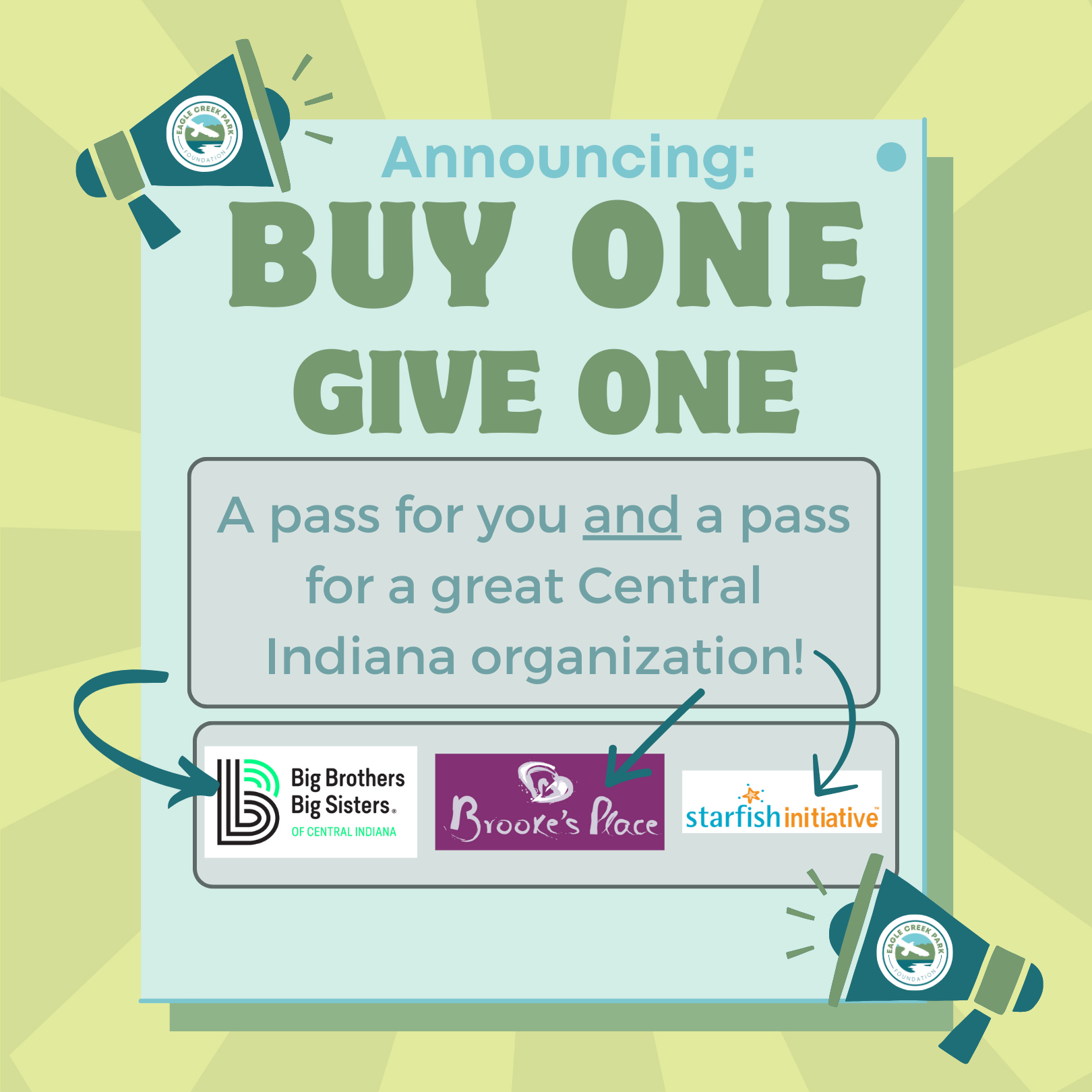 2024 BOGO Partner Organizations
Support these great Central Indiana Organizations, all aimed at helping young people in our community. Gifting a pass to any of these three partner organizations means your donation to the Foundation supports the Park and that young people from these organizations get to experience Eagle Creek Park. It's a win-win!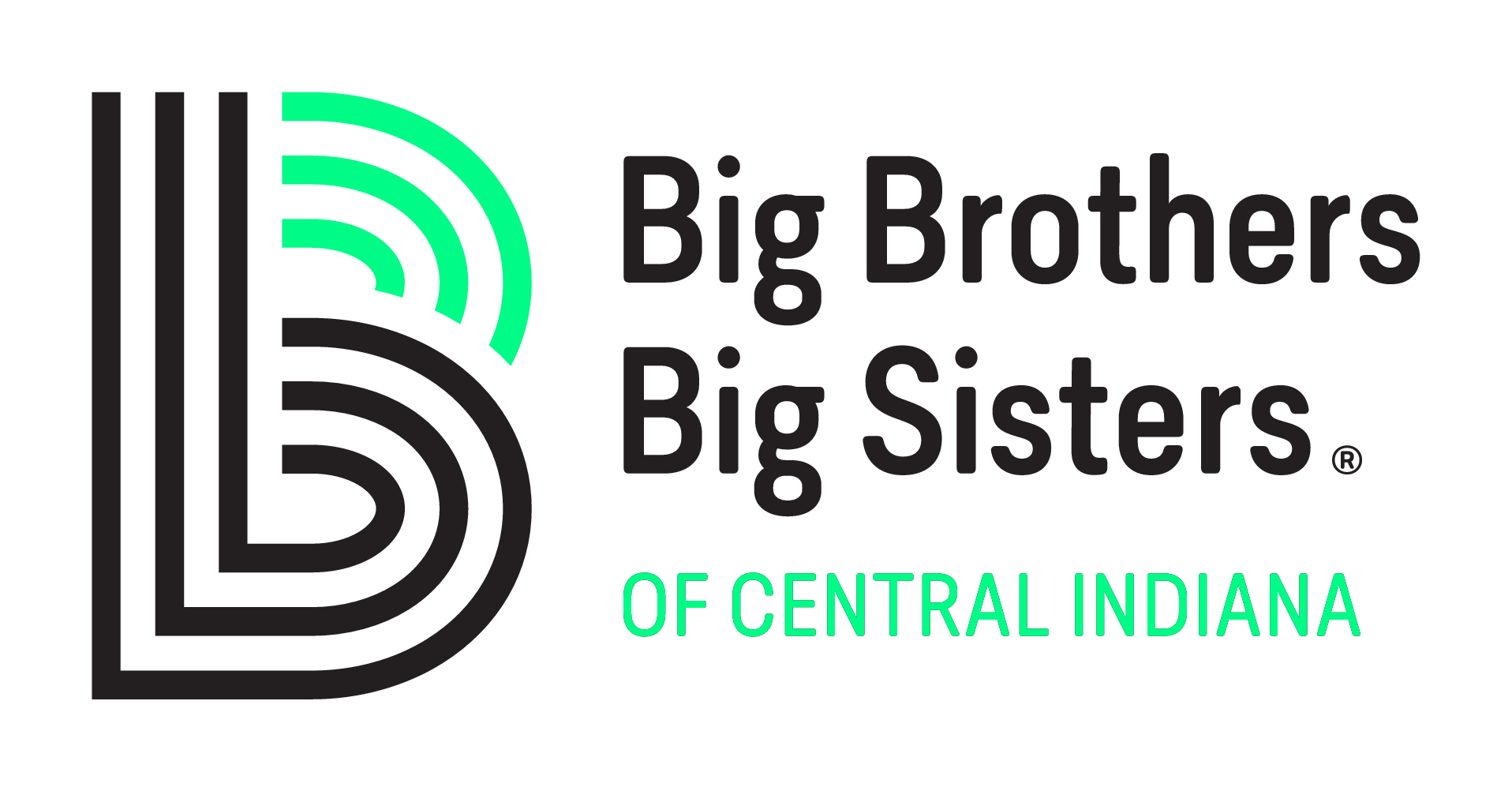 Big Brothers Big Sisters of Central Indiana is a nonprofit organization that serves more than 1,200 youth annually ages 8-18 in Hamilton, Johnson, and Marion Counties.
We partner with parents/caregivers, volunteers, schools, and the donors in our community to defend, ignite, and empower the potential of every child we serve. BBBSCI will use these gifted passes to provide access to Eagle Creek park for our current matches to take part in nature and learn more about the world around us.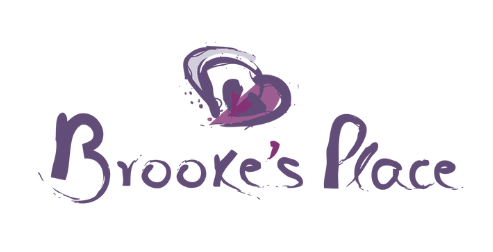 Brooke's Place provides support groups, therapy services and community education to empower children, teens, young adults and their families to thrive in the midst of grief.
More about Brooke's Place
Experiencing the death of someone significant can be very isolating for children, and their behavior can oftentimes be misinterpreted as something other than an expression of grief. Risks of unaddressed grief in a child include isolation, substance abuse, depression, poor school performance, aggression, and anxiety.
Because 1 in 7 children will experience the death of a parent, sibling or close loved one by the time they are 20, Brooke's Place works to create a community where every young person living with grief feels safe, supported and understood during their personal grief journey.
By donating a Park Membership Pass to Brooke's Place, you will directly help children, teens, young adults, and their families to thrive in the midst of grief, as well as the volunteers who aid in their personal grief journies. Your contribution will provide a peaceful space for families to grieve without intrusions from the ongoing demands of work and other daily responsibilities. In addition, your donation will offer unique and fun opportunities for families to bond in nature and remember their loved ones who have died. Join us in our mission to provide a safe and supportive environment for those living with grief. Donate a membership pass to Brooke's Place today!

Starfish Initiative is a one-on-one mentoring organization with a mission to inspire, encourage, and prepare
More about Starfish Initiative
Today, Starfish Initiative's one-on-one mentoring approach continues to advance our mission by inspiring, encouraging, and preparing motivated high school students who face challenges toward success in college and careers. We believe mentoring is the key to improving educational attainment, career success, and the overall future of today's youth.
Many Starfish Scholars have never experienced Eagle Creek Park. An Eagle Creek Park Membership will provide Starfish Scholars exposure to one of the nation's largest municipal parks and make a difference in the lives of at-promise youth one at a time.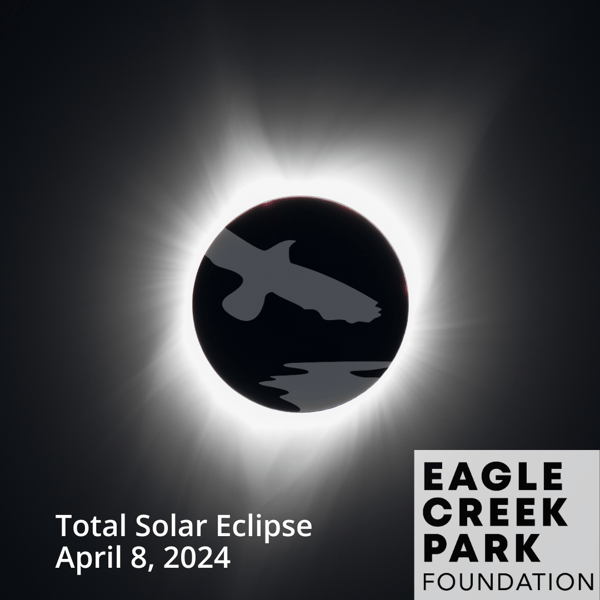 2024 will be diffrent
Many remember the partial solar eclipse that was visible in Indianapolis in 2017, which was interesting, indeed. However, this eclipse is a total solar eclipse. On April 8, 2024, the Moon will block out the sun and day will turn to night for almost 4 minutes!
Membership = Eclipse Glasses
We've got you covered. Each membership with ECPF comes with 4 pairs of custom ECPF eclipse glasses. That way you and yours can safely enjoy the Total Solar Eclipse on April 8, 2024

Thank you to our amazing sponsors!
To reach our about becoming a sponsor of Eagle Creek Park Foundation, click the link below to inquire.